Euro Pallet Transport Rack - SGP80.110
Thank you for information, we will get back to you as soon as possible.
Please complete the recaptcha verification.
Failure in product call for price.
80 cm Base, 110 cm Length, 108 cm Height
Wooden A-Frame Transport rack optimised for Euro pallets. Ideal for transporting Glass, Natural Stone Slabs, Tiles, Sheet Material, … . Modular configuration and shipment. Short Assembly Time.
Specifications
Specifications

2 Uprights

3 Uprights

4 Uprights

5

A

Usage

Usage time

Long term use

Limited Use

Sector

Glass

Stone

Interior Design

Dimensions

80 cm

110 cm

108 cm

Cargo

101 cm

130 cm

Waterproof

Waterproof

Water resistant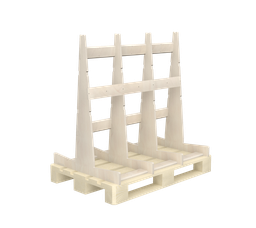 Euro Pallet Transport Rack - SGP80.110